The Magic of the Big Screen – Right in Your Living Room
With cinema operations negatively impacted due to COVID-19, demand for digital streaming platforms have grown exponentially, and they have become the go-to for the latest movie releases. For indie flicks and big-budget blockbusters alike, on-demand streaming has proven viable to reach global audiences – even when social distancing restrictions are in place.
In this new reality, having the right setup at home is essential for getting the most out of your viewing experience. Epson's ground-breaking EH-LS12000B 4K laser projector is the solution for movie buffs looking to enjoy all that the cinema has to offer in the comfort of your own homes.
Cinematic thrills in dazzling 4K
Epson's EH-LS12000B projector boasts a unique laser optical engine, leading pixel-shifting technology, plus three individual high-definition LCD chips that work in tandem to deliver outstanding 4K resolution. With 2,700lm brightness, a high contrast of more than 2.5 million to 1 ratio, and faithful colour reproduction, experience the best in quality that Epson has to offer. What's more, the EH-LS12000B automatically adjust picture quality according to the scene information, ensuring unparalleled image quality regardless of content.
It's not just what's onscreen that matters. With HDMI Enhanced Audio Return Channel (eARC) support, the big boost in bandwidth and speed, allows you to enjoy a beautiful blend of high-quality video and sound in an easier installation. Gamers can also immerse themselves in the thrilling experience, with 4K/120fps input support as well as low lag time of below 20 ms ensures optimised support for fast-moving game video output, making the EH-LS12000B an ideal choice for serious gaming enthusiasts.
Fuss-free tech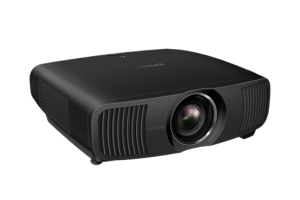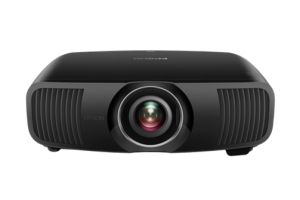 Featuring a sleek and simplistic design, the EH-LS12000B comes with wide-range powered lens shift and zoom functions that can be adjusted according to the dimensions of your viewing space, making this model a convenient addition to any home. The projector also powers up and cools down with no waiting time, so you can get straight to the fun.
Understanding projector illuminance
When it finally comes to deciding between one model or another, there is often so many technical specifications to consider. There's nothing worse than preparing for a movie night only to realise that the quality of your image looks completely different onscreen! That's why, one of the most important elements to consider in a projector, is its illuminance, or otherwise known as the projector light output, which reflects the brightness recorded at the screen – not the light source – and is measured in lumens (lm).
For many consumers, they often encounter brands that often employ vague and misleading terminology, touting the "brightness" or their projector's light source, or listing a high number of "LED Lumens" to give the false impression of the image quality. But with the EH-LS12000B, you can be assured 2,700lm colour and white brightness, which means that you can expect exceptional image quality and watch as every scene comes to life.
A must-have for home entertainment 
Epson's innovative and versatile EH-LS12000B projector relays lumens specifications according to two international standards: ISO 2118 (white light output) and IDMS 15.4 (colour light output). We make sure to use the right standards to measure lumens specifications so that with every Epson projector you purchase, you can leave with a peace of mind that you are only receiving the best.
| | |
| --- | --- |
| | |
| Others | Epson EH-LS12000B |
It's time to transform your home with astonishing high-definition entertainment with us. Whether the cinemas are closed, or you simply don't want to get off your couch, Epson's projection technology brings a world of enthralling possibilities to you.