Epson projectors make meetings more collaborative for Alila Solo Hotel
Hotels are increasingly choosing projection technology that can help make meetings and video conferences more productive. With collaborative features that enable quick and easy information sharing, Epson's ultra-short throw interactive projectors were the natural choice for Alila Solo Hotel, a 4.5-star property in Jakarta, Indonesia.
Fifteen of their conference rooms were recently equipped with the Epson EB-1400 interactive business projectors. Since the installation, business meetings have become more collaborative and presentations more compelling. Chosen for its superior image quality, a high brightness projector was also installed in their main 1,500 capacity ballroom.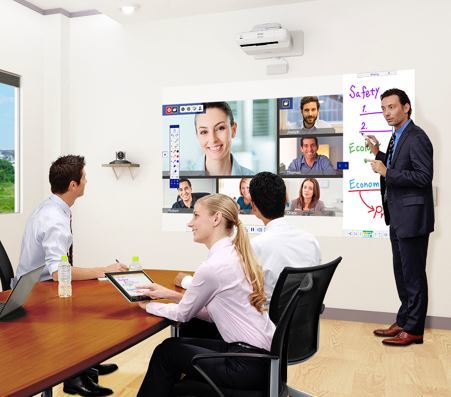 Real-time Connections at Your Fingertips
Director of Sales for the hotel, Mrs. Yenita Suparadjan was sold on the advanced interactive features and versatile projection modes of Epson's cutting-edge projector technology. The ability to connect between four parties from different countries and its finger-touch interactivity meant presentations could be controlled by each participant in real-time, making collaborations easier.
The Chief Engineer for property, Mr. Suranto, was impressed with the ease of installation. The ultra-short throw distance meant they could be used in nearly any space. And since there is no warm-up time, preparing a meeting room is now as simple as pressing the 'on' button.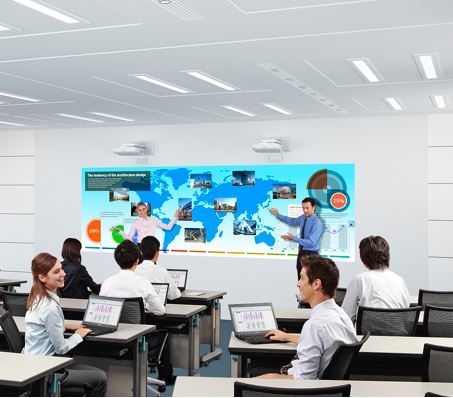 Engineered for Business
Nowhere was response for the projectors more enthusiastic than from Alila Hotel's business clientele. Local businessman, Mr. Agus, said he specifically chose to hold his conferences at the hotel because meeting rooms using Epson interactive projectors made his presentations more effective.
A high colour brightness of up to 3,300 lumens ensured demonstrations were vibrant and engaging, and the whiteboard sharing features allowed him to easily exchange information with his audience. Convenient USB connectivity also made it a snap to save notes and annotations and share them through email.
Built for maximum interactivity and outstanding reliability, the Epson EB-1400 series ultra-short throw interactive projectors are sure to impress Alila Solo Hotel business clientele and guests for years to come.

Collaborate and share effortlessly with
Epson's EB-1400 series projectors
Intelligent Interactive Experience
Intuitively control and draw with your fingers or interactive pens on high-speed interactive projections and share your interactions with PCs and mobile devices.
Ease of Presentation
With a wide range of connectivity, including remote desktop access, Epson projectors provide unparalleled presentation convenience.
Collaborate Meetings
Organise more productive meetings and video conferences with quick information sharing and greater participant engagements.
Superior Image Quality
Enjoy a dynamic viewing experience with a resolution that is beyond Full HD. And a projection screen size of up to 100 inches delivers greater visibility.
Elimination of Glare
Unlike flat panel displays which restrict viewing when exposed to other direct light sources, Epson projectors eliminate glare and blind spots, maximising interactivity and readability.
Wide Range of Connectivity
Save time and paper with advanced connectivity features that make your presentations convenient and hassle-free.
Laser Light Technology
Built with a revolutionary laser light source for 20,000 hours of maintenance free use, with inorganic LCD panels and Phosphor wheel for outstanding reliability.