Growing The Signage Printing Business In Thailand With Epson's S-series Printers
Is physical signage still relevant in an increasingly digital world? Ask Sermsak Chumthamai, and the answer would likely be a resounding yes. 
Chumthamai is the founder of T-Max Design, one of Thailand's fastest growing signage printing service providers. "Billboards are among the fastest ways to create awareness among customers for any kind of business," Chumthamai asserts. That conviction is forged from years of serving clients across a variety of domains. 
Chumthamai first learned the ropes by observing how local sticker shops were run. He took his self-education a step further by interacting with suppliers. Over time he was able to learn all the different aspects of the printing industry. 
It was only after laying that groundwork that Chumthamai set up shop himself. "I started the first branch of T-Max in Nakhon Pathom," he recollects. "Our first challenge was survival because all we had was the knowledge acquired from observing how the rest of the industry worked."
Chumthamai was able to overcome those challenges by focusing on delivering quality. Printing services were in demand and T-Max Design found itself at the forefront of the industry. The business began to grow fueled by the team's expertise and a growing list of clientele. Soon T-Max Design was able to open branches in two new locations in Bang Lamung and Khon Kaen. 
With the added locations came the demands of scaling operations without compromising quality. "In business, there is always opportunity and challenge; it all depends on how you see things," Chumthamai says. He responded by revamping processes to handle the influx of customers. 
"Our strategy is to turn competitors into partners – By working with them to sell our printers, and to support each other by setting the standards for quality, timeliness and price, amongst others. T-Max aims to be the service provider behind the printing companies, and to help them in delivering a high standard of service.
"We first met Epson's SureColor S-Series by recommendations from our partner," Chumthamai reveals. "After we conducted product tests, we found that the Epson SureColor S-Series is a great performer. We have used so many brands before Epson, and each brand had its advantages or disadvantages in terms of speed, quality, cost and durability. But when we used Epson, we discovered it is different from other printers; the product is in a league of its own in terms of speed and quality." 
"And working with Epson printers has helped us achieved customer satisfaction," he added. For T-Max Designs, time is of the essence. "Key to our success is speed, and the S-series helps us save on production time, and to deliver to our customers in a timely manner."
"Additionally, when we save time, it means more opportunities to land orders, which means more income for the company," says Chumthamai. The SureColor S-Series printers use precision media feeding technology to achieve production speeds as fast as 95.1 sqm per hour. 
Epson's printers are integral to the service provided by T-Max Design across multiple locations. The company has purchased 30 units of the Epson SureColor SC-S40670, 15 units of the SureColor SC-S60670, and one unit of the SureColor SC-S80670 to deliver quality prints across multiple locations.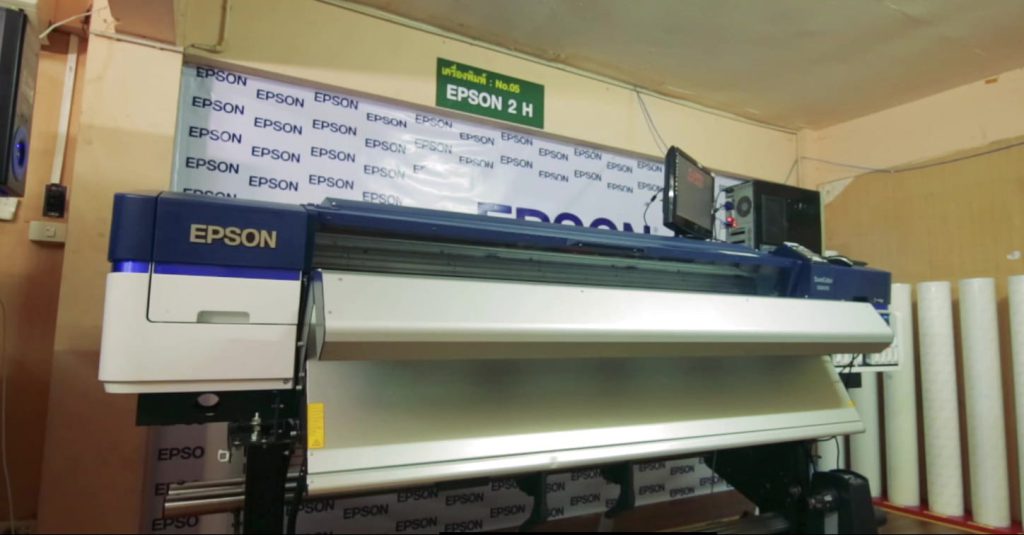 Another key concern for the business was the maintenance and upkeep of the printers. "The after-sales service has been beyond our expectations, which helps in reducing downtime. With the printer issues quickly resolved, we can focus on the business," Chumthamai says. 
The S-Series printers are the first solvent printers that come with same-day lamination, and have achieved the Greenguard Gold certification for safety of emissions for indoor air. The lower off-gas times contribute to the overall faster production periods.
Quality is another important consideration for T-Max Design. Epson is the only solvent printer manufacturer who also develops its own ink technology. The inks used in the company's printers are customized for each printhead, allowing for greater accuracy in the printing process.   
From its humble beginnings in Nakhon Pathom province, T-Max Design now has 37 branches spread out across Thailand. The team is already laying out plans for further growth, and it involves partnering with competitors by finding ways they can support each other.
The team is already laying out plans for further growth, and it involves partnering with competitors by finding ways they can support each other. "The goal for T-Max Design is to become a market leader in signage printing services," Chumthamai signs off.